Kate McMorrow represents a wide range of clients in all aspects of intellectual property law, including with respect to trademarks, advertising, unfair competition, copyrights, and patents. Her practice focuses on brand protection and enforcement, from domestic and international trademark selection and searches, prosecution, procurement, and enforcement, to advising clients on intellectual property issues associated with branding guidelines, press releases, and social media marketing. She also regularly handles intellectual property due diligence associated with mergers and acquisitions and advises clients on intellectual property licenses and assignments, as well as development, distribution, promotion, and marketing agreements.
Kate also represents clients in their intellectual property enforcement and defense. She has extensive experience litigating trademark, trade dress, domain name, false advertising, trade secret, patent, copyright, unfair competition, and contract cases in both federal and state courts and at the Trademark Trial and Appeal Board (TTAB), Patent Trial and Appeal Board (PTAB), and WIPO Arbitration and Mediation Center. Kate regularly performs pre-suit investigations and assessments, leads pre-suit enforcement and negotiation efforts, drafts and argues motions, handles all phases of both fact and expert discovery, including depositions, and represents clients through mediations and settlements. She has drafted numerous case-ending pre-trial motions and was also on a litigation team that obtained a change in law at the U.S. Supreme Court.
Kate is active in the legal community, currently serving on the executive committee of the Los Angeles County Bar Association's (LACBA) Entertainment and IP Law Section. Kate also previously served on the IP and Innovation Track Project Team for the International Trademark Association's (INTA) Annual Meeting in Singapore, as well as on the executive committee of LACBA's Young Attorney Section and on the Planning Committee for the Young Lawyers Section of the Women Lawyers Association of Los Angeles (WLALA).
Prior to joining Knobbe Martens, Kate was a managing associate at one of the largest multinational law firms in the world as well as an associate at a Chicago-based intellectual property law firm. Kate earned her JD at Boston University School of Law where she was vice president of the IP Law Society and a staff member of the American Journal of Law & Medicine. During law school Kate also interned at one of the leading food testing companies working on domestic and international acquisitions and at Boston University's Office of Technology Development researching licensing metrics to optimize IP portfolio management.
Education
Boston University School of Law
(J.D. Law, 2015), IP Law Society – Vice President, Health Law Association – Director of Publicity, American Journal of Law & Medicine
Truman State University
(B.S. Chemistry, 2012), (B.A. English, 2012), cum laude, Phi Beta Kappa, Honors Scholar
Awards & Honors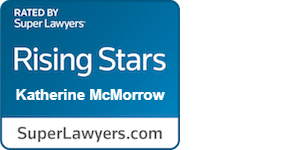 California Recorder Mentor/Mentee Award Finalist (with Susan Natland) (October 2023)
Named a Southern California "Rising Star" by Super Lawyers magazine in 2020 - 2023
Shortlisted for the 2023 Americas Women in Business Law Awards for Rising Star in IP
Speeches & Seminars
Co-Presenter, "Making Sense of AI Policies in the Generative AI World," Webinar, Knobbe Martens in partnership with the Association of Corporate Counsel, Southern California Chapter, September 19, 2023
Moderator, "Welcome to the Future: Emerging IP Issues Relating to AI and Its Impact on Brands," 2023 Annual Meeting, International Trademark Association (INTA), May 19, 2023
Panelist, "Transforming Technologies," The 2023 Copyright Symposium, Transform: A New Horizon in Copyright, McCarthy Institute at the ASU Sandra Day O'Connor College of Law and UCLA Institute for Technology, Law & Policy, March 16, 2023
Co-Presenter, "What You Should Know About Protecting Trademarks" Webinar Series for Start-Ups, Knobbe Martens, February 6th, 9th, and 27th and March 2nd of 2023
Host, CLE on "Privilege Issues for In-House Counsel in IP Cases" and "License Agreements: Trending Risk Areas," Knobbe Martens in partnership with the Association of Corporate Counsel, Southern California Chapter, May 18, 2022
Presenter, "Acquired Distinctiveness: What is 'Substantially Exclusive' Use Under Section 2(f)?" Knobbe Martens CLE, April 15, 2022
Co-Presenter, "RIP Copyright Law. XOXO, Gen Z," The Copyright Society Midwinter Meeting, February 8, 2022
Co-Presenter, "The Trademark Modernization Act (TMA)," Knobbe Martens CLE, January 31, 2022
Co-Presenter, "Artificial Intelligence for Lawyers: Separating Facts from Science Fiction," Beyond Illusions 7 CLE, Dentons in partnership with the Association of Corporate Counsel, Southern California Chapter, August 27, 2020
Co-Presenter, "Using IP to Protect Your Brand & Generate Revenue," Beyond Illusions 6 CLE, Dentons in partnership with the Association of Corporate Counsel, Southern California Chapter, August 15, 2019
Co-Presenter, "Strategies at the Patent Trial and Appeal Board," Dentons CLE, June 19, 2019
Presenter, "The Implications of Highmark and Octane," McAndrews, Held & Malloy CLE, July 2014
Presenter, "Preserving the Attorney-Client Privilege in Digital Corporate Communications," McAndrews, Held & Malloy CLE, July 2013