Stacey R. Halpern is a partner in our Orange County office. Ms. Halpern's practice focuses on all areas of domestic and international trademark, unfair competition and copyright matters, including, counseling, prosecution, audits, maintenance, policing, licensing and enforcement. In addition, Ms. Halpern handles the development and management of worldwide trademark portfolios, resolving trademark, copyright, and domain name disputes, including the resolution of proceedings before the Trademark Trial and Appeal Board, establishing and enforcing rights in trademarks and copyrights, disputes involving counterfeit goods and customs and Internet-related matters.
Ms. Halpern has experience in addressing these topics in a broad spectrum of industries, including healthcare, medical, financial, computer hardware and software, telecommunications, apparel, food, retail and other service businesses.
Prior to obtaining her Master of Laws (LL.M.), Ms. Halpern was an associate with two general practice firms where she worked on various intellectual property matters.
Ms. Halpern joined the firm in 1996 and became a partner in 2002.
Education
University of the Pacific - McGeorge School of Law
(J.D., 1993), Order of the Coif, with great distinction
The George Washington University Law School
(LL.M. Intellectual Property, 1996)
University of Rhode Island
(B.A. Biology)
Awards & Honors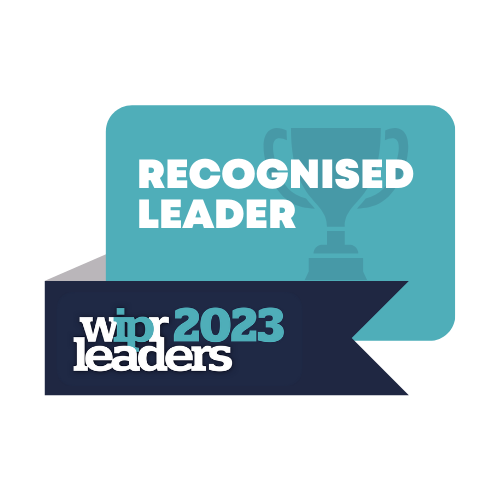 Stacey has received multiple awards and has been honored in both national and international forums for her legal accomplishments:
Recognized in the 2022 edition of Euromoney's Expert Guides - Women in Business Law for Trademark/Copyrights
Recognized as a "World IP Leader" in 2022 and 2023 for her excellent work in Trademark by World Intellectual Property Review (WIPR).
Recognized in the World Trademark Review (WTR) 1000 as a "Leading Trademark Lawyer" from 2018-2023. In 2018, she was described by clients and peers as being a "very seasoned and highly rated attorney" and that she is "conscientious, responsive and able to handle a diverse range of problems". Stacey was also commended for her "trademark savvy" in unfair competition matters. In 2019, her clients said that she "smooths over bumpy matters with a perfect blend of tenacity and pragmatism". In the 2020 guide, she was noted for excelling "not only in worldwide portfolio management but as a counsellor who can address all manner of enforcement concerns". In the 2021 guide, she was lauded as having a "deft touch when it comes to managing global portfolios." In 2022, one of her clients noted Halpern "gets to grips with large portfolios easily and manages them into optimal shape." In 2023, she was described as someone who "manages portfolios with an assured hand and is a seasoned enforcer."
Recognized in the Legal Media Group (LMG) "Women in Business Law" guide in 2014, 2015 and 2019.
Named in "Who's Who Legal: Trademarks" list from 2014-2019 and 2023 by Law Business Research.
Recognized in The Legal 500 "United States 2015" as being an outstanding practitioner. In this guide, she was highly recommended for handling worldwide trademark portfolios, copyright and domain name disputes.
Recognized in the 2015 "Best of the Best USA" guide by Legal Media Group (LMG).
Recognized in Law Business Research's 2015 "Who's Who Legal 100".
Recognized in the "2015 Women in Law Awards" by Lawyer Monthly Magazine.
Recognized in the 2012 and 2014 Guide to the World's Leading Trademark Law Practitioners by Euromoney's Legal Media Group (LMG).
Named as a Top Women Attorney in Southern California by Super Lawyers from 2012-2014.
Awarded the title "Super Lawyer" in surveys of her peers conducted by Los Angeles Magazine and Super Lawyers magazine for her work in intellectual property law from 2012-2014.
Named in a survey of her peers published in Los Angeles magazine and Super Lawyers magazine, as one of Southern California's "Rising Stars" in intellectual property law in 2014.
Articles
Co-Author, What's In A Name website.
Co-Author, The Administration of Intellectual Property Law in Cyberspace: Current Cases Regarding Intellectual Property Law in Cyberspace, International Bar Association Meeting -R/L Committee, Legal Updates Relating to Technology Law, November 7, 1997, New Delhi, India
Co-Author, Secondary Liability for Copyright and Trademark Infringement: Where Cyberspace and Retail Space Meet, Orange County Lawyer, March 1998, Vol. 40, No. 3
Co-Author, Copyright Law in Cyberspace, International Business Lawyer, April 1999, Vol. 27, No. 4