Justin J. Gillett is a litigation Partner in the Orange County office of Knobbe Martens.

Mr. Gillett's practice focuses on technology litigation, including patent, trademark, trade secret, and licensing cases. He has handled cases involving consumer products, medical devices, ergonomic devices, computer technology, and infrastructure. Mr. Gillett has broad experience in multiple federal courts, including the Eastern District of Texas, the District of Delaware, and the Central District of California, among others.

Mr. Gillett is a registered patent attorney and also has experience drafting and prosecuting patent applications through allowance before the United States Patent and Trademark Office.

In 2016, Mr. Gillett served as a Deputy District Attorney for the Orange County District Attorney's Office as part of the Trial Attorney Partnership. In that role, Mr. Gillett tried two jury trials to verdict and conducted several preliminary hearings on felony matters.

Mr. Gillett was nominated for the 2018 California Lawyers Association Jack Berman Award of Achievement, which recognizes a new or young lawyer for distinguished service to the public, the judiciary, or the legal profession. Since joining Knobbe Martens, Mr. Gillett has contributed more than 900 hours of pro bono legal service helping indigent clients handle litigation matters in federal court. Mr. Gillett has held leadership positions in several community groups and bar organizations, including the Public Law Center, Orange County Chapter of the Federal Bar Association, the Constitutional Rights Foundation of Orange County, and the Notre Dame Club of Orange County.
Mr. Gillett has received multiple awards and has been honored in both regional and national forums for his legal accomplishments. In 2021, he was recognized by The Legal 500 "United States" for Patent Litigation, and in 2022 and 2023, was named one of Southern California's "Rising Stars" for his outstanding intellectual property legal work in Super Lawyers magazine. From 2021 – 2024, Mr. Gillett was also named to the Best Lawyers: Ones to Watch guide, which "recognizes lawyers who are earlier in their careers for their outstanding professional excellence in private practice", for Patent Litigation.

Before joining Knobbe Martens, Mr. Gillett served as a law clerk for the Honorable Leonard Davis (Ret.), Chief Judge of the U.S. District Court for the Eastern District of Texas. He earned a Bachelor's of Science in Mechanical Engineering at the University of Notre Dame, where he also was a member of the varsity football team. Before beginning his legal career, Mr. Gillett held several positions in operations management for General Electric's Aviation business. Mr. Gillett then attended Michigan Law School, where he graduated with honors.
Clerk Experience
Hon. Leonard E. Davis, Chief Judge for the U.S. District Court for the Eastern District of Texas
Education
University of Michigan Law School
(J.D., 2013), cum laude
University of Notre Dame
(B.S. Mechanical Engineering, 2008)
Awards & Honors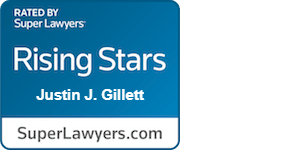 Recognized as one of Southern California's "Rising Stars" for his outstanding intellectual property legal work in Super Lawyers magazine (2022 - 2023)
Recognized by The Legal 500 "United States" for Patent Litigation (2021)
Named to the Best Lawyers: Ones to Watch guide, which "recognizes lawyers who are earlier in their careers for their outstanding professional excellence in private practice", for Patent Litigation (2021 - 2024)