Jonathan Menkes provides strategic trademark counseling and brand protection for clients across numerous industries. He is also the Chair of the firm's CBD and Legal Cannabis Group.
Jonathan's practice includes domestic and foreign trademark selection and searches, trademark audits, unfair competition, false advertising, and notice and takedown procedures involving copyright and trademark claims on social media and domestic and foreign e-commerce websites. His litigation experience includes opposition and cancellation proceedings, ex parte and inter partes proceedings before the Trademark Trial and Appeal Board (TTAB), and domain name disputes.
He has represented in a broad spectrum of industries, including NFT and blockchain technology, legal and medicinal cannabis and CBD, life sciences, food and beverage, automotive, software, fashion and apparel, and medical devices, among others. Representative clients include Monster Energy, Medterra, Highline, AutoWeb, and Rokform. Jonathan is also a contributor to the firm's Fashion and Beauty Blog.
Jonathan worked as a summer associate with the firm in the summer of 2010 and joined the firm in 2011.
Clerk Experience
Judicial Extern for the Honorable James V. Selna, United States District Judge for the Central District of California
Certifications
Harvard Business School (Executive Education), Launching New Ventures (Certificate of completion issued March 2022)
Harvard Business School (Executive Education), Changing the Game: Negotiation and Competitive Decision-Making (Certificate of completion issued November 2021)
Harvard Law School (Executive Education), Leading Change for Lawyers (Certificate of completion issued July 2021)
Harvard Law School in collaboration with Harvard Business School (Online), Financial Analysis and Valuation for Lawyers (Certificate of completion issued July 2021)
Education
Boston College Law School
(J.D.), UCLA School of Law (Visiting Student)
University of California - San Diego
(B.A. Philosophy), Phi Beta Kappa, magna cum laude
Harvard Business School
Alumni (PLD 35)
Awards & Honors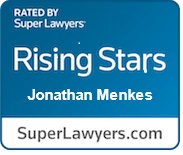 Recognized as one of Southern California's "Rising Stars" for his outstanding intellectual property legal work in Super Lawyers magazine (2020 - 2023)
Featured Quotes
Articles
Co-Author, UNITED STATES: PRO ERA vs. NEW ERA Marks, International Trademark Association Law & Practice Perspectives (July 2020)
Knobbe Martens Fashion & Beauty Blog Contributor
Stirring the Pot: Recent Trademark Infringement Claims from Major Brands In the Cannabis Field, Knobbe Martens (May 2019)
A Joint Crackdown from the FTC and FDA on Medical Treatment Claims from CBD Companies, Knobbe Martens (May 2019)
Permanent injunction results in lack of standing, World Trademark Review (October 2016)
Protecting Your Company's Intellectual Property through an IP Audit: a Guide for Small to Mid-­Sized Businesses, E-­book through ExecSense (2013)
Willfulness and the Current State of Trademark Damages Law, American Bar Association (ABA) Intellectual Property Litigation Section (April 2012)
Speeches & Seminars
Speaker, Beverly Hills Bar Association - Fundamentals of Startup Law for the Entrepreneur, An Overview (October 2022)
Speaker/Moderator, OCBA-IP and Technology Section & Entertainment, Sports and Marketing Joint Section Meeting - Summer Bonfire Chat: Branding and IP Issues in the New Technology Landscape (August 2022)
Co-Presenter, Beverly Hills Bar Association - Startup Law Initiative (June 2022)
Moderator, ACG Orange County - Turning Over a New Leaf: Business Strategies for Driving Growth in the Legal Cannabis Industry (April 14, 2022)
Moderator, Octane MedTech Innovation Forum – Innovation in Mental Health (October 2021)
Presenter, Alt Legal Connect - Be Fab with TTAB: Tips for Successfully Pursuing, Defending, and Settling TTAB Disputes (September 14, 2021)
Presenter, OCBA - IP & Technology Law Section - Unconventional Warfare: Best Practices for Stopping IP Infringement Online (December 21, 2020)
Presenter/Moderator, ACG Orange County – Make Your Mark: Demystifying Trademarks and Brands (December 14, 2020)
Speaker, "IP Considerations and Strategies: Reducing Risk for Online Content", in-house client presentation (July 2020)
Guest Lecturer, UCSD Master of Science in Drug Development & Product Management, (course) Business Development & Entrepreneurship, Corporate Law, Patent Strategy in Pharma & Biotech (Lectured on Trademarks and Brand Protection) (May 27, 2020)
Speaker at the Federal Bar Association's Fashion Law Conference – Cannabis and CBD in the Fashion and Beauty Industry, New York (February 2020)
Speaker at the LAIPLA Washington in the West Conference – Cannabis Trademark Protection – Challenges and Strategies, Los Angeles (February 2020)
Speaker at the ACC-SoCal Double Header - How to Chicken Dance Like a Pro Around Copyright Clearance, Orange County (October 2019)
Guest on the Ganjapreneur podcast episode "Cannabis Product Trademarks" (August 2019)
Guest Lecturer, UCSD Master of Science in Drug Development & Product Management, (course) Business Development & Entrepreneurship, Corporate Law, Patent Strategy in Pharma & Biotech (Lectured on Trademarks and Brand Protection) (July 30, 2019)
Presenter and Moderator at Association for Corporate Growth's "Cannabis: The Blossoming Opportunities and Unique Challenges" (June 19, 2019)
Speaker at "HerCannabiz Presents: Trademarking Your Cannabis and CBD Brand" (May 29, 2019)
"10 IP Pitfalls Every Startup Should Avoid," Wayfare Labs, Costa Mesa (October 2016)
"12 Steps to Becoming (an IP) Dragonslayer: 'Navigating Social Media and e-Commerce Websites,'" 29th Annual Orange County Paralegal Association Educational Conference (September 2015)