Knobbe Martens Attorneys Named "Top Authors" in JD Supra's 2020 Readers' Choice Awards
JD Supra has recognized Knobbe Martens attorneys as "top authors" for contributing popular thought-leadership pieces addressing key legal topics – a repeat honor for the firm. In the publication's 2020 Reader's Choice Awards, partners Paul Stewart and Catherine Holland rose to the top among 50,000 authors who published articles on JD Supra in 2019.
The Readers' Choice Awards honor top authors and firms covering 26 key, cross-industry topics read by C-suite executives, in-house counsel, media, and other professionals across the JD Supra platform. Stewart ranked once again among patent authors, and his articles can be found here. Holland was recognized for her writing on trademark law, and her articles can be viewed here. In addition, an article by Holland, partner Ian Gillies and associate Bita Kianian, "No Apologies: Nirvana v. Marc Jacobs," was singled out as one of the most popular posts of 2019 in the trademark category.
According to JD Supra, the annual awards reflect a deep dive into its 2019 reader data, in which they examined total visibility and engagement among readers across many industries interested in certain defining topics of the day. A full list of this year's 235 winners across categories can be found here.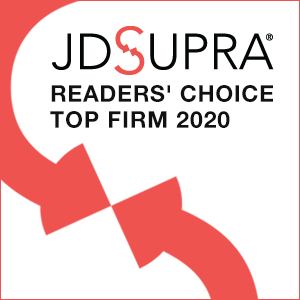 About Knobbe Martens
Consistently ranked among the top intellectual property firms in the nation and worldwide, Knobbe Martens has close to 275 lawyers and scientists nationwide and dedicates its practice to all aspects of intellectual property and technology law, including litigation. Knobbe Martens serves a diverse group of clients from multinational corporations to emerging businesses of all stages. The firm is headquartered in Orange County, California, with offices in Los Angeles, New York, San Diego, San Francisco, Seattle and Washington, D.C., and enjoys an international reputation for excellence. More information about the firm can be found at www.knobbe.com.