Who Owns the Royale With Cheese? - Miramax Sues Tarantino Over the Sale of Pulp Fiction Related NFTs
On November 16, 2021, Miramax, LLC ("Miramax") brought claims of breach of contract, copyright infringement, trademark infringement, and unfair competition against director Quentin Tarantino. A copy of the complaint can be found here. Miramax alleges that Tarantino planned to auction off Pulp Fiction Non-Fungible Tokens ("NFT") comprised of "seven uncut Pulp Fiction Scenes" which include "scans of some pages of the Pulp Fiction script." For example, the website for the NFT sales states that a digital version of the film's iconic "Royale with Cheese" scene will also be up for auction. These Pulp Fiction NFTs allegedly hold "previously unknown secrets of [] specific iconic scene[s]" from the movie. The recent explosive demand for NFTs – tokens using distributed ledger technologies (e.g., Ethereum) used to represent ownership of unique items- has caused artists, creators and intellectual property holders to consider monetizing their digital options.
Other than Tarantino's Reserved Rights (i.e., rights to the "soundtrack album, music publishing, live performance, print publication (including without limitation screenplay publication, making of books, comic books and novelization, in audio and electronic formats as well, as applicable), interactive media, theatrical and television sequel and remake rights, and television series and spinoff rights"), Miramax claims that it acquired "all rights (including all copyrights and trademarks) in and to the [Pulp Fiction] film (and all elements thereof in all stages of development and production)" from Tarantino and producer Lawrence Bender in 1993. Miramax further contends that Tarantino's Reserved Rights were "a narrowly-drafted, static exception to Miramax's broad, catch-all rights" and "do not contain any forward-looking language." Miramax also claims copyright registrations related to the film as well as registered and unregistered trademark rights in the mark PULP FICTION. Examples of Miramax's use of the PULP FICTION marks are shown below.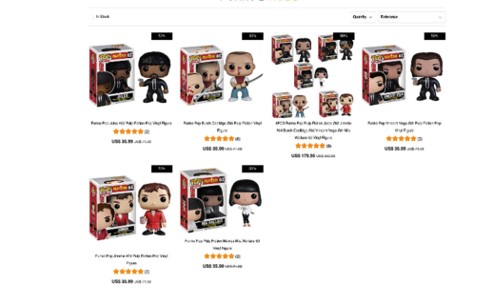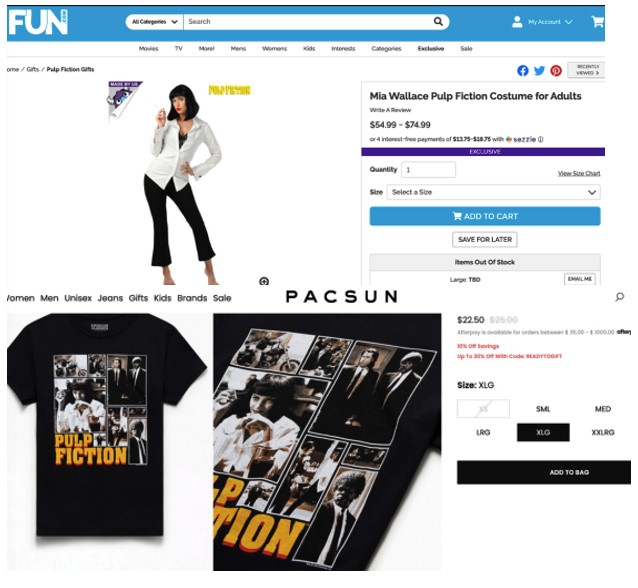 Miramax claims that "Tarantino did not consult [with Miramax] regarding his sale of the Pulp Fiction NFTs," and instead sought to "capitalize, unilaterally, on Miramax's rights to Pulp Fiction." When Tarantino refused to comply with Miramax's cease and desist letter, Miramax brought this suit. Amongst other allegations (e.g. breach of contract, copyright infringement), Miramax claims that this behavior is "likely to cause confusion, mistake, and deception among the relevant consuming public as to the source of the Pulp Fiction NFTs, and have deceived and are likely to deceive the relevant consuming public into believing, mistakenly, that the Pulp Fiction NFTs originate from, are associated or affiliated with, or are otherwise authorized by Miramax."
Tarantino's attorney, Bryan Freedman, stated "Quentin Tarantino's contract is clear: he has the right to sell NFTs of his hand-written script for 'Pulp Fiction' and this ham-fisted attempt to prevent him from doing so will fail…[] Miramax's callous decision to disclose confidential information about its filmmakers' contracts and compensation will irreparably tarnish its reputation long after this case is dismissed."
Unsurprisingly, the new NFT craze has increased NFT-related litigation. For example, the July 2021 securities class action lawsuit filed against Dapper Labs Inc. alleges that defendant's NBA Top Shot platform sale of NBA-related NFTs violated U.S. securities laws since the NFTs were not registered with the Securities and Exchange Commission. The intersection of NFTs and copyrights has been also raised in the Roc-A-Fella Records suit against Damon Dash. In this suit, Roc-A-Fella Records seeks to prevent Dash, a Roc-A-Fella Records co-founder, from selling an NFT tied to the copyright for Jay-Z's Reasonable Doubt album. As Roc-A-Fella Records argued in its complaint, while Dash owns a one-third "equity interest in [the record label], he does not own the copyright" at issue.
As illustrated, IP rights can be heavily intertwined with NFTs. For example, selling or making NFTs can implicate copyrights and trademark rights. Creators and sellers should make sure their actions do not infringe on the rights of others. They should check to see if there are trademark registrations for marks included in the material contained in the NFT. They should evaluate the material to determine the extent of copyrightable subject matter, review any agreements related to the material to determine ownership issues, and determine if they have the right to use the material as contemplated.
Rights owners should take steps to protect their intellectual property by registering their copyrights and trademarks, and be on the lookout for potential infringing activity. They should also evaluate if there are any patentable aspects to inventions involving distributed ledger technologies. Third-party online platforms involved with NFTs should ensure there is a procedure for parties to post takedown requests, and a mechanism for removing any potentially infringing works (e.g., DMCA takedowns).
Editor: Catherine Holland