Shutdown Will Impact FDA
The looming government shutdown will likely slow the pace of work at the FDA. The federal government will shut down on October 1, 2023 unless a deal is reached. In the event of a shutdown, 19% of FDA employees would be furloughed immediately.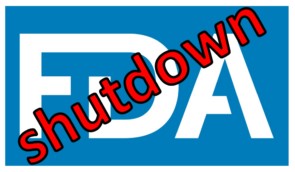 Many FDA activities would continue via user fee funding. These activities relate to regulation of drugs, biosimilars, medical devices, and tobacco products. Additionally, COVID-19 supplemental funding will ensure that certain pandemic response activities would continue. Together, the user fee funding and COVID-19 funding can provide for 64% of the FDA workforce—the exempted staff. It is possible, however, that these sources of funding may run out if the shutdown is extended.
The FDA also has excepted staff, totaling 17% of the FDA's workforce, who can continue their activities even without appropriations. This ensures that all "vital" activities can also continue in the event of a shutdown. These activities relate to detection and response to health emergencies, addressing existing critical health challenges, managing recalls, drug shortages, and outbreaks relating to foodborne illness and infectious disease. Other vital activities include pursuing criminal enforcement work and civil investigations, reviewing import entries, conducting inspections of regulated facilities, and surveilling for adverse events reports.
Medical product activities are supported by a mix of user fees and appropriations. It seems reasonable to expect some of the FDA's employees working in this area would be furloughed. Additionally, new applications for devices covered by the agency's 510(k) and Premarket Approval (PMA) will not be accepted during the shutdown, similarly to the previous shutdown.
Notably, the percentage of the FDA employees to be immediately furloughed upon commencement of the shutdown is lower than it was during the 2018-2019 shutdown, when 41% of the workforce was furloughed. Based on the 2018-2019 shutdown, some commenters have speculated that FDA personnel may be less responsive to electronic communications should the shutdown occur.
Likely Order of Events as the Shutdown Persists:
October 1, 2023 — 19% of FDA employees are immediately furloughed; new device applications not accepted.
Months later — Some of the exempted employees (64% of FDA workforce) are furloughed as available funding is used up; certain pending device applications may be affected.
Ongoing for Duration of Shutdown — Excepted employees (17% of FDA workforce) continue to work without appropriations.