"All of the Lights" on Yeezy as Walmart Opposes Yeezy's Trademark Application
In April 2021, big-box retailer Walmart Apollo, LLC ("Walmart") filed a trademark opposition against Yeezy LLC's ("Yeezy") U.S. Trademark Application Serial No. 88/746444 for its sun rays design mark, shown below ("Yeezy's Mark"). Yeezy was founded and is owned by Kanye West, who Walmart describes as a "recording artist, record producer, fashion designer, and former candidate for President of the United States."
Walmart alleges, among other things, that the consuming public is likely to be confused between Yeezy's Mark and Walmart's registered mark below.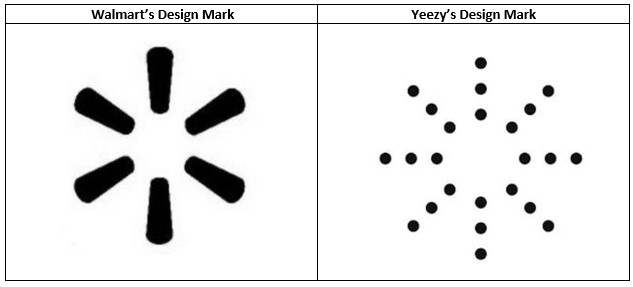 While Yeezy is most commonly categorized as a fashion and lifestyle brand, the application for Yeezy's Mark interestingly includes goods and services in International Classes 6, 9, 19, 25, 35, 37, 38, and 43. This broad array of goods and services includes everything from "clothing" and "resort services" to more unexpected inclusions such as "construction of modular homes" and "non-metal modular homes," which could be a nod to Mr. West's prior attempts to revolutionize the housing industry by building a new type of home.
In its Notice of Opposition, Walmart alleges that it has been using its design mark in commerce since at least as early as 2007, which would give Walmart priority over Yeezy's Mark which was filed on January 3, 2020 based on Yeezy's bona fide intent to use the mark in U.S. commerce (assuming Yeezy does not have any prior common law use).
While Walmart's opposition to Yeezy's Mark may be a surprise to some, Walmart bases some of its allegations on the fact that it has used its own mark in connection with "music sound recordings," "clothing," "retail store services," "streaming services," and "entertainment venue services," all of which Walmart alleges are highly related and directly overlapping with Yeezy's Mark's claimed goods and services. Walmart also alleges that its design mark is well known and famous.
Of particular note, Walmart argued that its history of regularly partnering with high-profile celebrities to advertise its own products and services would increase the public's likeliness to think that Yeezy's Mark is endorsed by or affiliated with Walmart. Included in the examples of "pop culture references" that Walmart relied on was Kendall and Kylie Jenner, Mr. West's sisters-in-law.
Along with likelihood of consumer confusion, Walmart also alleges the following grounds for opposition: (1) deception and false designation of origin, (2) trademark dilution, and (3) a lack of bona fide intent to use the trademark.
Yeezy's Answer to the Notice of Opposition is due May 31, 2021.
Editor: Jonathan Hyman