CALBIO/World Agri-Tech Investment Summit Reception
- - UTC
Download to calendar
Location
ThirstyBear Restaurant & Brewery
661 Howard St.
San Francisco, CA 94105
United States
Description
Knobbe Martens will host its reception during the CALBIO Annual Conference and the World Agri-Tech Investment Summit. Please note that access is by personal invitation only.
Since numbers are limited, please contact allison.cucuiat@knobbe.com if you would like to bring a colleague and we will advise by email if there are spaces available, or if you'd like to meet with any of our attorneys before the reception.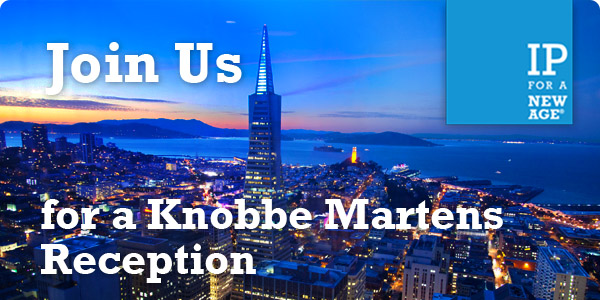 You are invited to a reception during the 2015 CALBIO Annual Conference and World Agri-Tech Investment Summit. Enjoy drinks, hors d'oeuvres and networking with attorneys from the firm's biotechnology group.
---
ThirstyBear Restaurant & Brewery
661 Howard Street                             
San Francisco, CA 94105
Monday, March 2
6:00 p.m. – 8:00 p.m.
---
CALBIO 2015
San Francisco Marriott Marquis
March 2 - 3, 2015

World Agri-Tech Investment Summit 2015
Mission Bay Conference Centre
March 3 - 4, 2015
RSVP to allison.cucuiat@knobbe.com by Friday, February 27.
No CLE credit available